Residence Na Kolibe is a unique residential project with 32 residential units in four villa houses. Great living in a quiet location, beautiful views of the city of Bratislava. The project is approved and we are gradually handing over the apartments to our clients.
If, as architects, we could also model the outlook for projects, we would not suggest in the case of Na Kolibe Residence no other. Our goal was an architecture that respects its surroundings and provides maximum user comfort. I think we did it.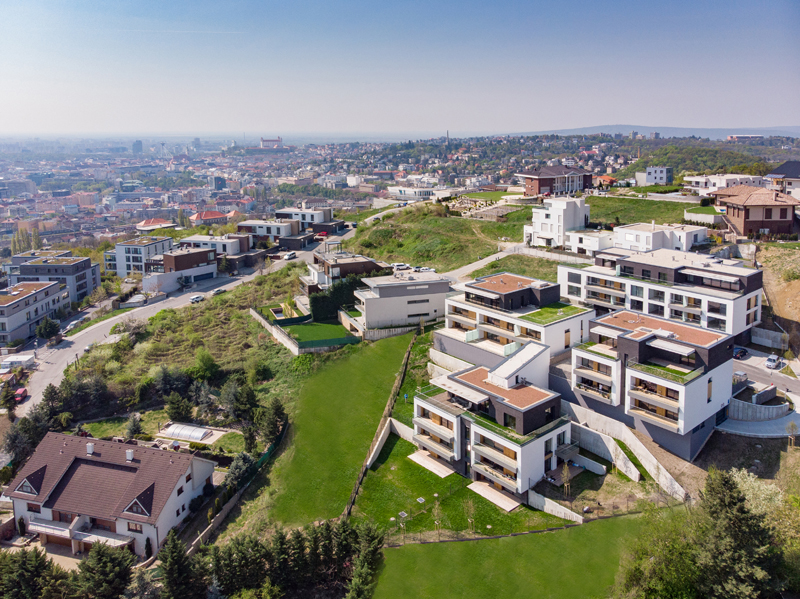 Our effort was to best combine the form of a modern building with maximizing the outdoor green areas, "explains Ing. arch. Oskar Mészár. "That's why we have created generous front gardens, large roof terraces and spacious loggias. When composing the materials, we again followed the views that this land offered. Maintaining the best possible views even on the lower floors has become a separate topic, which we have constantly verified in our 3D model."
The architectural expression consists of four cubist masses in shape, which are significantly perforated by large glazed areas in the form of French windows with a height of 2.4 m. Loggias became significant elements in the formation of facades, which supported the horizontal character of small-storey buildings.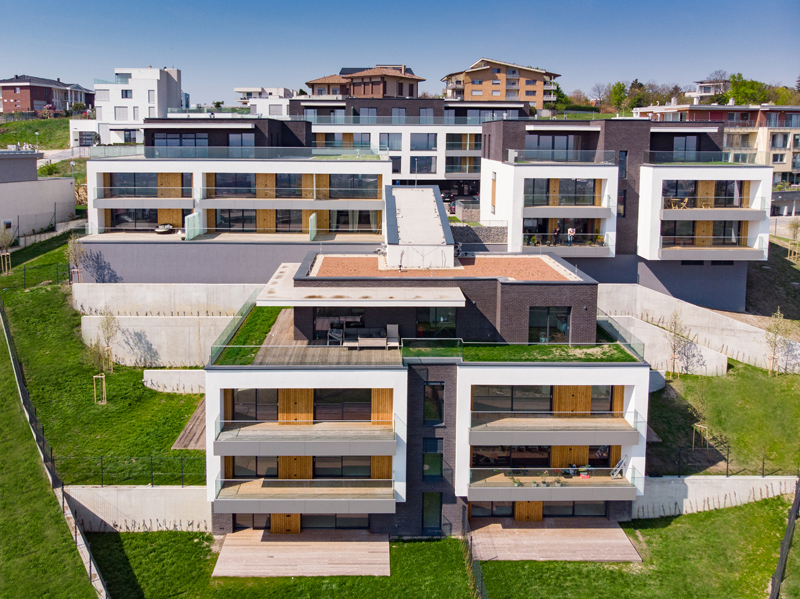 Na Kolibe Residence offers an intimate character of living
"We have been tuning the layout of the flats for a very long time," says Oskar Mészár. "We tried to create really modern, spacious and communicatively clear living spaces. Layout tuning also continued with client changes, which we processed for our clients in our studio. "
The whole complex has 32 apartments, which is a mix of two to five-room apartments. The most spacious are the roof penthouses, which also have the largest outdoor terraces. Thanks to the small number of flats, the architects have achieved the intimate character of housing with large outdoor green areas.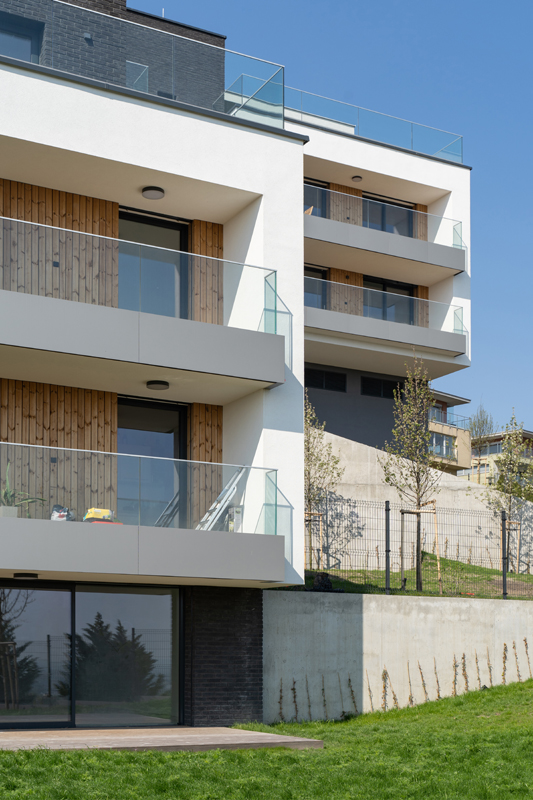 Ceiling cooling of apartments
Large aluminum windows support the views, but at the same time ensure above-standard lighting of the rooms. On all external surfaces of terraces and loggias, wooden terrace boards made of thermal pine are used. Glass railings on loggias and roof terraces support the clean material concept of the facades.
The thermal comfort in the apartments is ensured by underfloor heating in combination with ceiling cooling. Since the whole project is based on air / water heat pumps, it was a logical step to use the potential of ceiling cooling and provide a higher quality of housing.